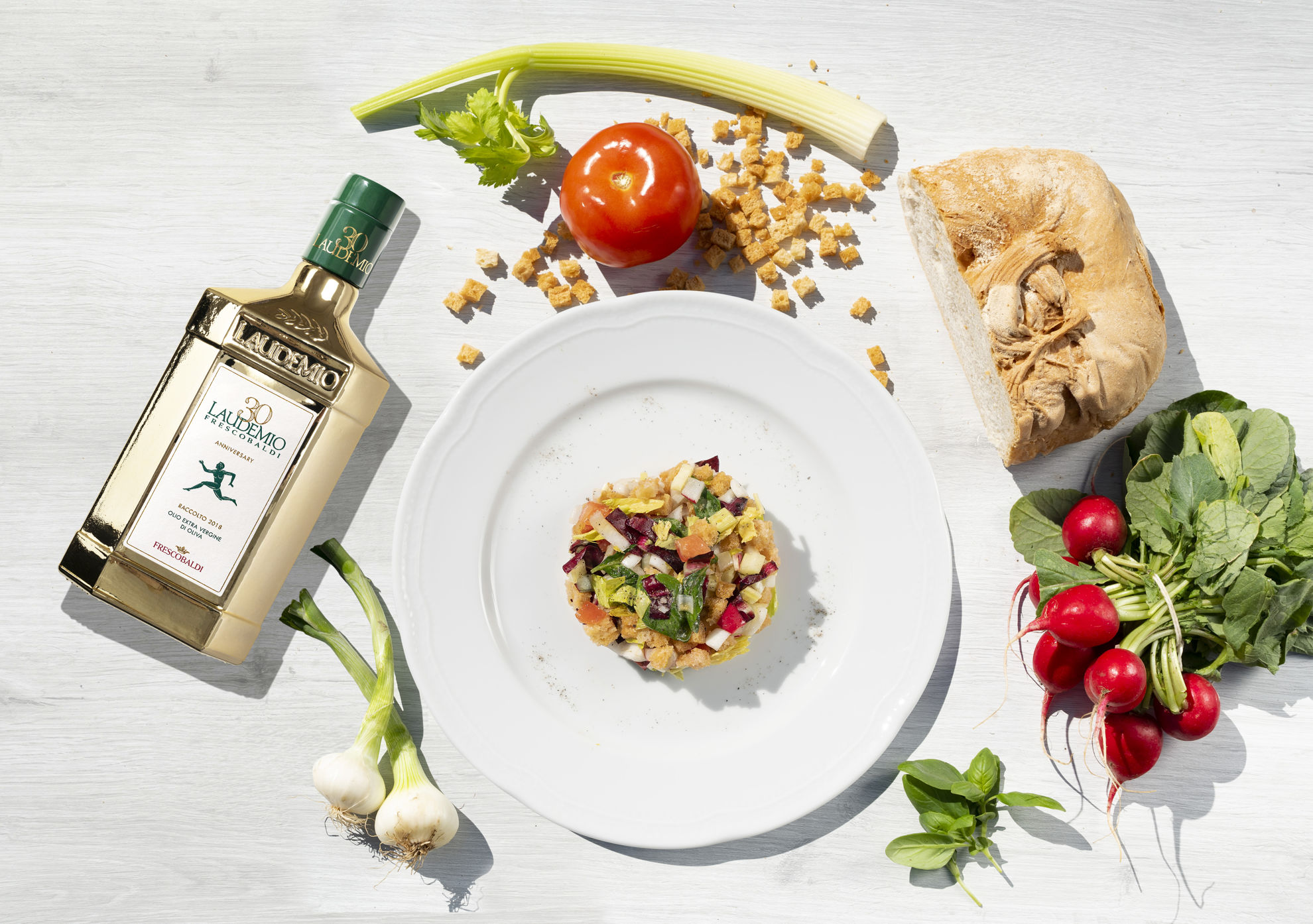 Tuscan Panzanella: the original recipe with extra virgin olive oil
Tuscan Panzanella is a delicious dish that originated in Tuscany and later spread to all regions of central Italy. Although the exact historical period of its origin is not known, it was already mentioned and praised by the poet Giovanni Boccaccio in one of his writings during the 14th century. An ancient dish, therefore, part of Tuscan culinary culture that is still highly appreciated by diners today. This tasty recipe celebrates the Mediterranean flavor, using simple and flavorful ingredients such as bread, tomatoes, and olive oil. Tuscan Panzanella, therefore, is a unique dish, a combination of delicacies to be enjoyed during hot summer days instead of the classic large salads, but also, why not, to be served as an appetizer. If you wish to learn the original Panzanella recipe, keep reading!
History and origins of Panzanella
To recount the history of Tuscan Panzanella, one must take a step back in time to a period when possibilities were limited and food was repurposed to avoid waste. Panzanella was, in fact, a 'poor' food born from the leftovers of Tuscan peasant cuisine: during the Middle Ages, bread was rarely prepared, and for this reason, even when it became stale, it wasn't discarded but reused in other recipes, such as Panzanella.
Initially, it contained only a few ingredients like stale bread, tomatoes, and onions. However, over the centuries, its history intertwined with the history of olive oil, making the latter an essential element for the recipe. Cucumbers and basil have also been added over time, enhancing the dish's flavor. Today, it is one of the cornerstones of the culinary culture of the region. Despite its origins in the Tuscan countryside, Panzanella quickly became a beloved dish throughout Italy and among its visitors.
Panzanella ingredients
What are the ingredients of panzanella? In this delicious one-of-a-kind dish, there's a mix of flavors that will literally make you fall in love with the recipe. The elements that make up panzanella are simple, yet at the same time distinct, a perfect combination for a dish that manages to satisfy all palates, perfect to serve during a dinner with friends, but also to be enjoyed during the summer. Below are all the ingredients used in the preparation of Tuscan Panzanella:
Dry Bread (500g) 

Tomatoes (4, preferably Tuscan variety with skin and firm flesh) 

Fresh Spring Onions (4)

 Cucumbers (2) 

Radishes (10) 

Basil (2 bunches) 

Laudemio Frescobaldi Olive Oil (5 tablespoons) 

Black Pepper 

Salt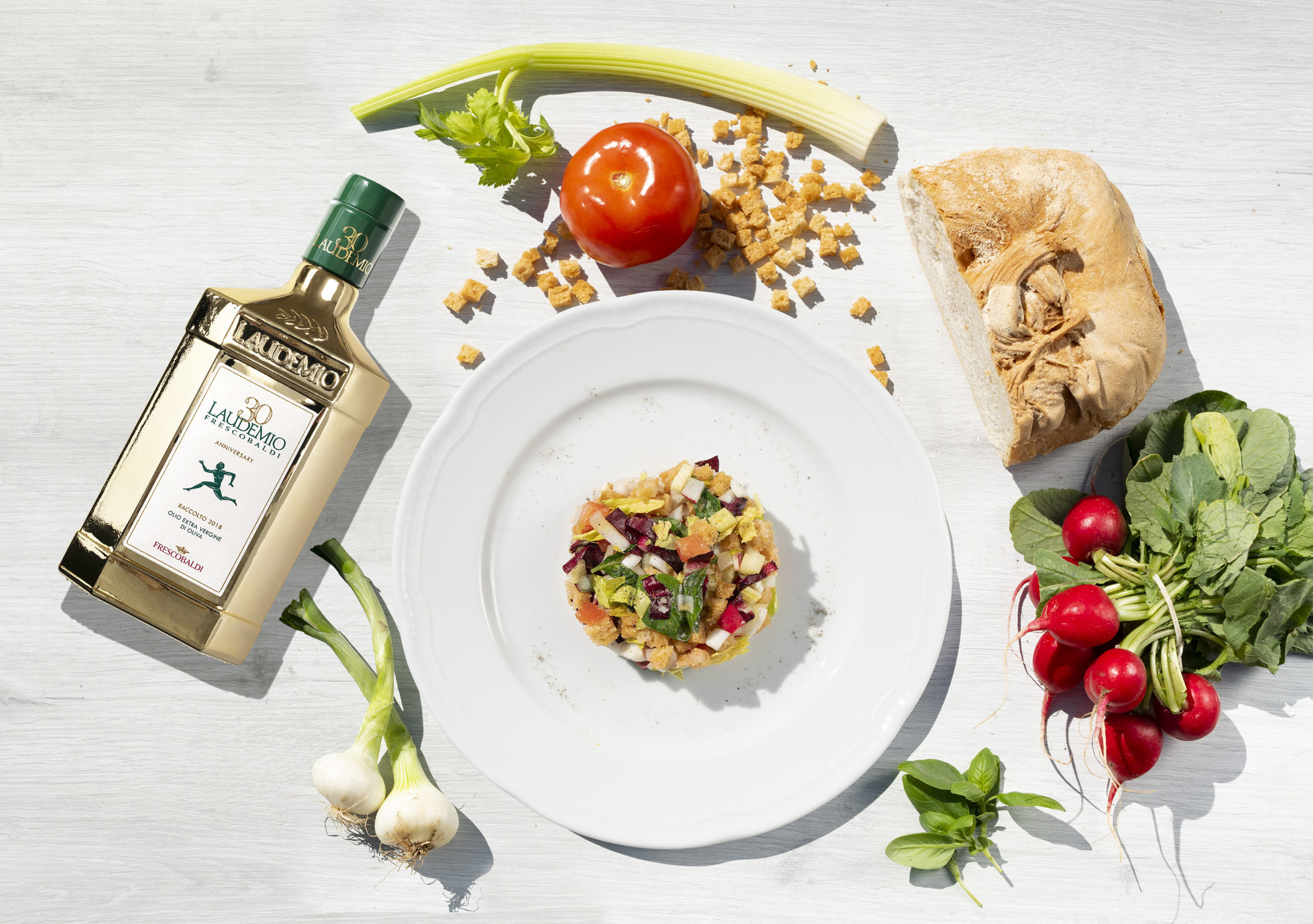 How to make Panzanella: Step by step
How is this dish prepared? The recipe for Panzanella is quick and very simple, as it doesn't involve cooking. The true secret of the dish is to use good quality ingredients and to know how to balance the amounts of salt, pepper, and olive oil. Below, you'll find all the steps for preparing the famous Tuscan recipe. All you need to do is gather the right ingredients.
First, you'll need to cut the bread into very small cubes. In the original recipe, it's soaked with all the vegetables and water until the bread is completely moistened. However, we prefer to toast it in the oven to achieve a crispy Tuscan Panzanella and to give a more consistent texture to the dish, considering that the vegetables are raw. Depending on your preference, you can choose to toast it or moisten it;

The second step is to cut the vegetables into cubes as well, making sure to roughly maintain the same size as the bread pieces;

After preparing the ingredients, it's time to combine them in a mixing bowl and add salt and pepper to taste;

Now, add 5 tablespoons of Laudemio Frescobaldi olive oil to flavor your dish;

As the final step, arrange your ingredients on a plate using a pastry ring for presentation, and garnish with a few fresh basil leaves.
Now that your Tuscan Panzanella is ready, all that's left is to taste it, but with the right wine pairing!
What wine to pair with Panzanella salad?
Tuscan Panzanella will captivate you from the first taste, but to fully savor it, you'll need to find the right wine to pair it with. And what better choice than a Tuscan Chardonnay? A fresh wine with a smooth flavor that perfectly complements the savory elements of Panzanella's ingredients. That's why Frescobaldi's Pomino Bianco is the winning card to unveil when tasting the dish during a gathering, but also to enjoy on your own with your Tuscan dish. Pomino Bianco is crafted from a blend of Chardonnay and Pinot Bianco grapes that originate in the Tuscan hills at altitudes reaching 700 meters. Its elegant and refined taste, combined with the composition of Panzanella, makes for the perfect pairing for a quality meal. If you're eager to explore contrasting tastes and flavors, you can take a look at Frescobaldi's reserve of wines, where you can choose from various options and find the combination that best captivates your palate.
The perfect condiment for tuscan bread salad: Laudemio Frescobaldi olive oil
The final touch to give to your Tuscan Panzanella is precisely Laudemio Frescobaldi olive oil. As you know, not all Extra Virgin olive oils taste the same, and for this reason, it's very important to know how to find the right one. Laudemio Frescobaldi is a 100% Italian olive oil naturally rich in polyphenols and with an intense flavor, also derived from the perfect microclimate in which its olives grow. Adding it to the Tuscan Panzanella recipe means giving character to the dish's taste and making it even more unique.
Purchase Laudemio Frescobaldi olive oil and try it in many other recipes: discover, for example, how to use it in the preparation of "fettunta" (grilled bread) in the Tuscan style, another dish that will captivate your taste buds. If, on the other hand, you truly want to amaze your guests, use Laudemio Frescobaldi to prepare olive oil gelato! You'll leave them astonished.