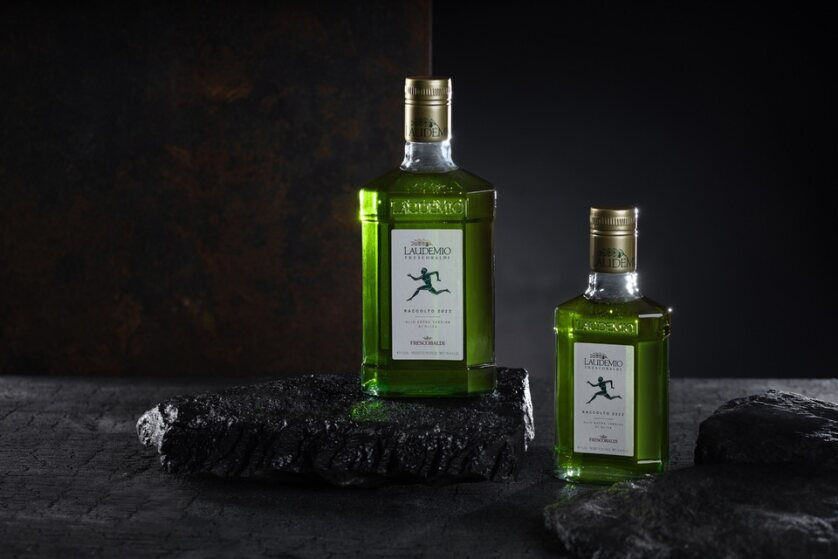 History, Production, and Awards of Laudemio Frescobaldi Olive Oil
Laudemio oil is a product of Tuscan excellence, with nutritional and sensory properties that are not easily found in the market. Back in medieval times, the ancestors of the Frescobaldi family cultivated the best of this land. Today, we own one of the most significant agricultural estates in Italy dedicated to the production of high-quality olive oil and wine.
Our extra virgin olive oil has an excellent reputation, thanks to the numerous national and international awards we have received. 
Laudemio is not just an ordinary oil; it is the result of a century-long family tradition and a production process meticulously cared for down to the finest details, resulting in a unique quality.
Keep reading to discover the history, the production process, and all the awards achieved by Laudemio Frescobaldi olive oil!
What is the meaning of 'Laudemio'?
Let's start with the basics: the name. The name of our oil has a truly fascinating and symbolic origin. In mediaeval times, the term 'laudemio' referred to the portion of the harvest, the best part, destined for the lord, the landowner. This word derives from the Latin 'laude,' meaning praise or excellence. So, from the name alone, you can understand how Laudemio Frescobaldi still represents the ultimate expression of extra virgin olive oil.
The symbol of Laudemio Frescobaldi is an Etruscan athlete, representing the health achieved through a healthy lifestyle and proper nutrition, precisely what our oil brings to tables around the world. Born from a process meticulously cared for down to the finest details and recognized globally, Laudemio Frescobaldi oil is a unique product with a name that speaks volumes, just like its fascinating history.
The History of Laudemio Frescobaldi Olive Oil
The Frescobaldi family has a millennia-long history deeply rooted in the Tuscany territory. By the late Middle Ages, the Frescobaldi family expanded their influence as bankers, even becoming treasurers of the English crown. With the arrival of the Renaissance, they became patrons of important architectural works in Florence. But even before that, the Family has been cultivating their land for seven centuries, and here we want to mention two key things worth remembering that have marked their lives and the history of olive oil.
As first, in 1984, the company installed a new mechanized olive press to improve the quality of Laudemio olive oil. In 1985, Italy was hit by a frost that reached as low as -25°C, causing all the olive trees across 300 hectares of land to lose their branches. This was a turning point for the Frescobaldi family. Secondly, in 1988, Laudemio oil was born, marking the beginning of a true revolution in Italian extra virgin olive oil. Today, Laudemio Frescobaldi is over 30 years old and represents a guarantee of excellence!
The Art of Producing Laudemio Frescobaldi Olive Oil
The most important value for the Frescobaldi family is our land, Tuscany. For this reason, it is not only crucial for us to produce high-quality oil but also to prioritize environmental sustainability in our surroundings. The Frescobaldi olive groves are located on the hills that surround the beautiful city of Florence.
The production process is divided into three phases: harvesting, crushing, and selection.  Olive harvesting must take place in October and not extend beyond November, before complete ripening, to ensure high quality, emerald green color, and aromatic freshness. Subsequently, within a maximum of 24 hours, in our own olive mill, the crushing and filtering take place to ensure clarity and residue-free oil. Finally, there is a meticulous evaluation, during which, following very strict criteria, only the highest-quality extra virgin olive oil is selected to become Laudemio Frescobaldi. This quality would not be attainable without the Tuscan microclimate, which imparts our estate's olives with unique characteristics of freshness and intensity of aroma and flavor. Our extra virgin olive oil classification is recognized by European legislation, and we recommend exploring this further to learn how to avoid low-quality products. 
Awards and Recognitions of Laudemio Frescobaldi Olive Oil
Laudemio Frescobaldi is a quality oil recognized by connoisseurs from around the world. But how do you determine what the best extra virgin olive oil is and what factors determine its quality? Certainly, its properties and benefits, such as nutritional and sensory characteristics, are derived from a careful and eco-sustainable production process. 
It should be clear and of a brilliant green, but "it's not that in the following months, when the color is less vivid, it's less good. The important thing is that it's not cloudy and dull. If the oil is cloudy, it's not perfect." These are the words of our Matteo Frescobaldi, Marketing Manager for Laudemio & Tirrena. 
Thanks to the care and perfection in production, Laudemio Frescobaldi oil has received numerous awards.
National awards:
5 Gocce (Associazione Italiana Sommelier): 2005, 2006, 2007
3 Olive: 2005, 2011 | Olio dell'Emozione: 210 | 

Grande Olio

: 2015, 2018, 2019, 2020 (Slow Food)
Best Of (Armonia): 2019, 2021

3 Foglie

: 2020, 2022 | Best Olive Oil & Wine: 2020 (Gambero Rosso)
Bicchiere d'Oro (Milan International Olive Oil Award): 2020, 2022

Corona Maestro D'Olio

 (Terre d'Olio): 2022
International awards:
#1 Tuscan Oil (Wine Spectator, USA): 1997
Best Olive Oil (Summer Fancy Food Show, NY): 2001
One Of The Best Olive Oils (Deir Feinshmecker, Germany): 2009, 2018, 2020, 2021
Gold Award: 2022 | Silver Award: 2011, 2018 | Bronze Award: 2017, 2020 (Los Angeles Extra Vergin Olive Oil Competition)
Gold Award (NY International Olive Oil Competition): 2017, 2019, 2020, 2021, 2022

Silver Medal

: 2019, 2021, 2022 | Gold Medal: 2020 (Olive Japan)
1 Star (Great Taste, UK): 2019, 2022
Gold Medal (Evo International Olive Oil Contest): 2020, 2022
Where to Find Laudemio Frescobaldi Olive Oil
If you want to purchase Laudemio Frescobaldi oil, you can do so at the best online stores, as well as at our retail locations. For any information, please write to us at laudemio@frescobaldi.it.