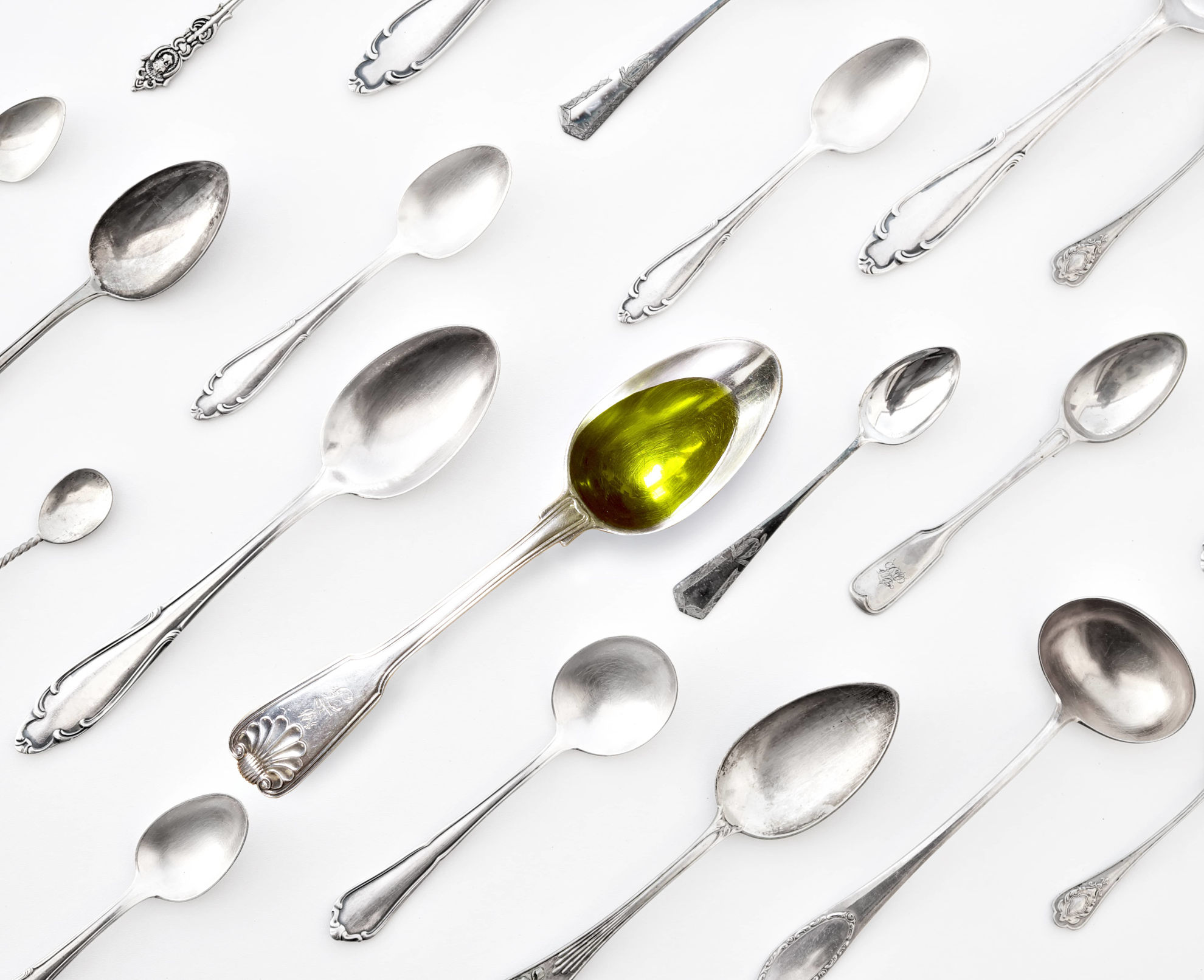 Olive oil tasting in Tuscany - Visit the olive groves and facilities
Olive trees, together with vines, have always characterized the most typical Tuscan landscapes. Its centuries-old history has its roots in the middle ages and continued in the Renaissance. Tasting Tuscan extra virgin olive oil with the renowned Frescobaldi family is now not only a unique experience but also easily accessible. Visit our olive groves and taste the finest olive oil and wines at our magnificent facilities!
What is the flavour of olive oil?
The typical bitter and spicy extra virgin olive oil taste is often negatively perceived by consumers; however, if, during a tasting, bitter, spicy, and fruity hints prevail, it is undoubtedly an authentic extra virgin olive oil. In fact, bitter and spicy characteristics are due to the presence of polyphenols in the oil, which are the natural antioxidants primarily responsible for the endless health benefits and properties of high-quality olive oil.
Some oils will have unwanted aromas and flavors. Technically, when at least one of these is present, the oil should be automatically downgraded from its extra virgin status. Let's remember that olive oil is a flavor enhancer, so its taste and fragrances will be transferred to all the dishes in which it is used.
| | |
| --- | --- |
| Rancid-tasting | A neutral or tasteless greasy flavor reminiscent of wax means that the oil has oxidized due to excessive exposure to air or to significant changes in temperature that have accelerated its degradation. |
| Wine-tasting | An unpleasant smell/taste that vaguely resembles a solvent, vinegar, nail polish or even acetone is almost certainly due to the presence of olives that have been stored for too long before being pressed. |
| Mold-tasting | A smell/taste of soil, mud or humidity are defects found in oils whose olives have been attacked by mold or yeast during storage. |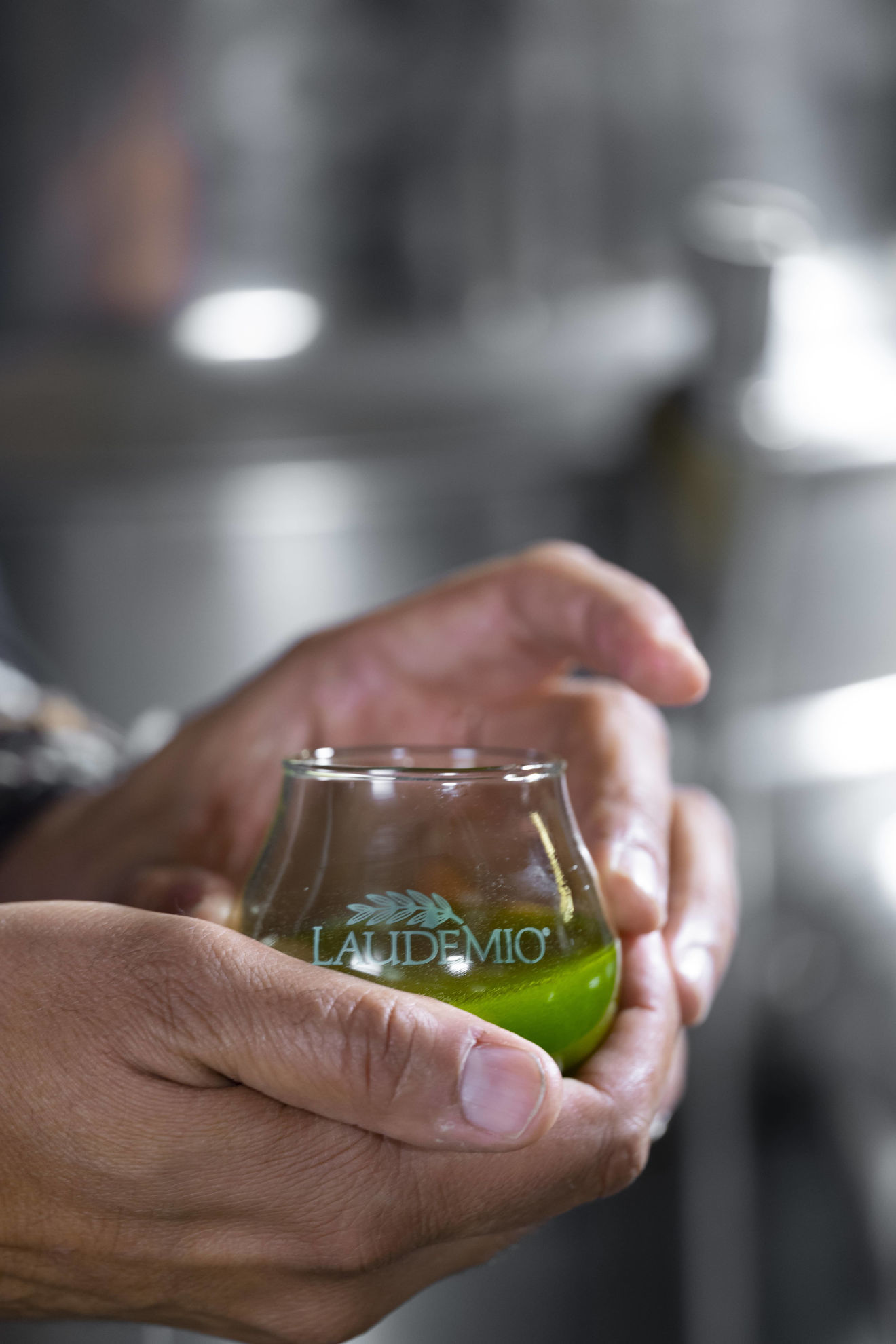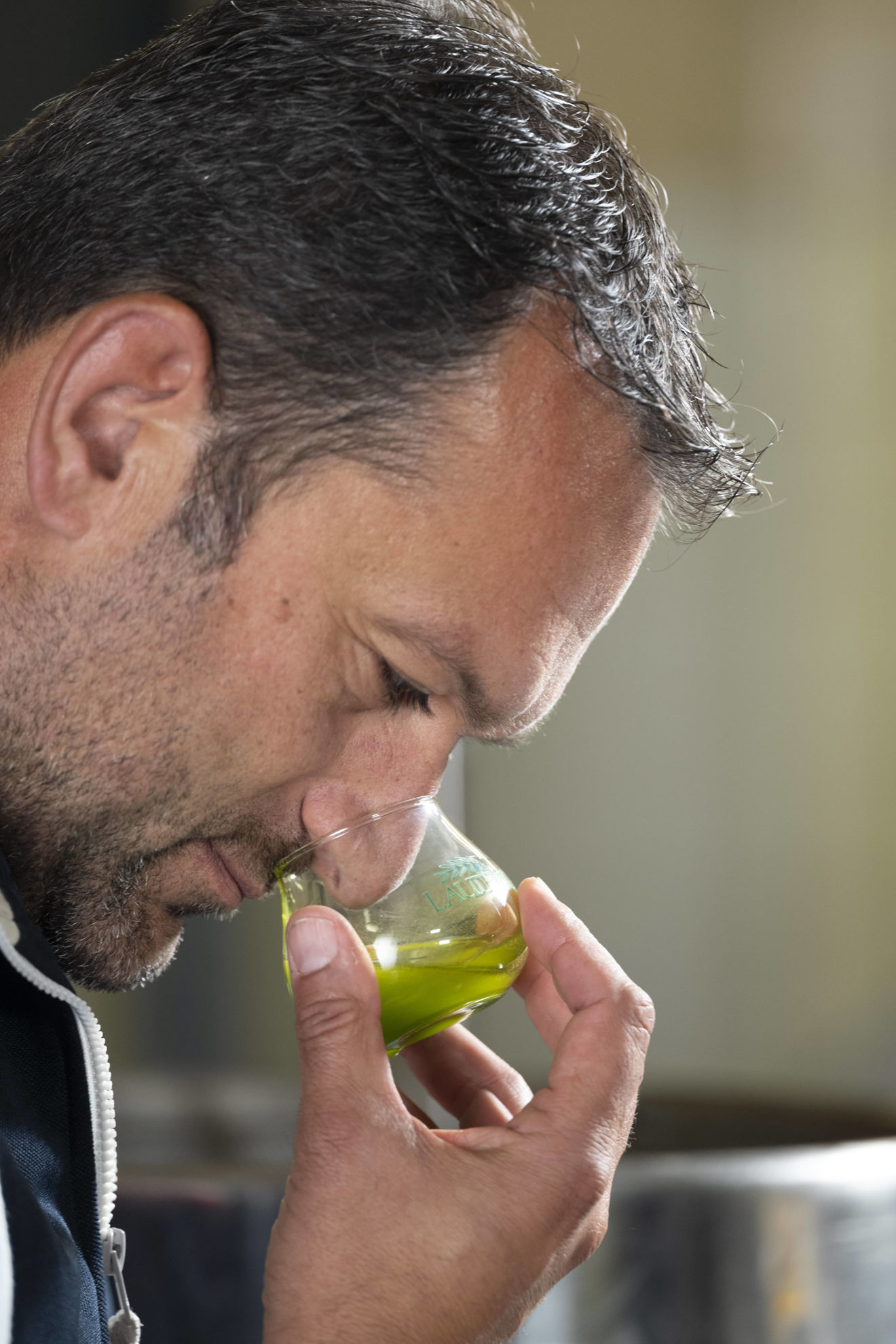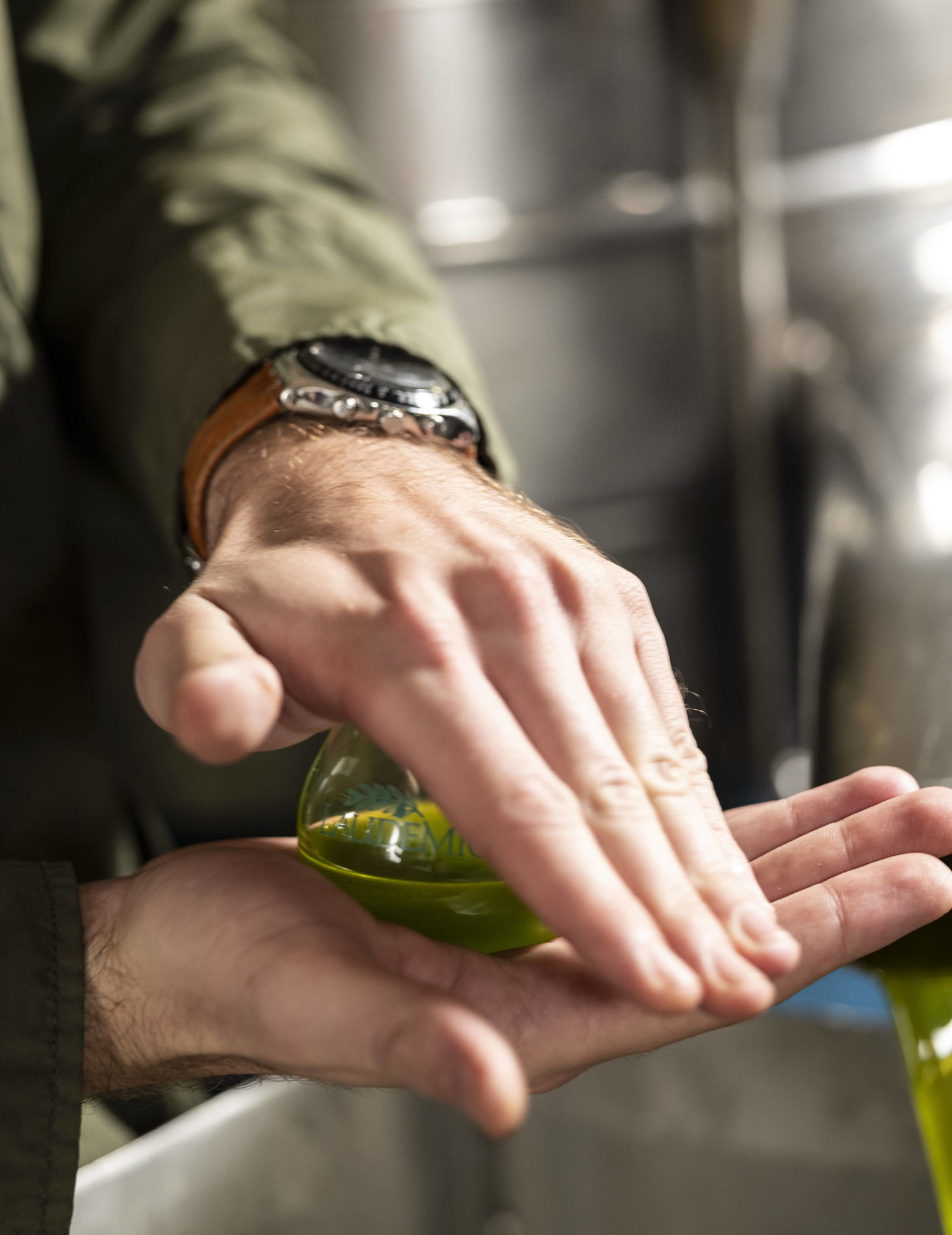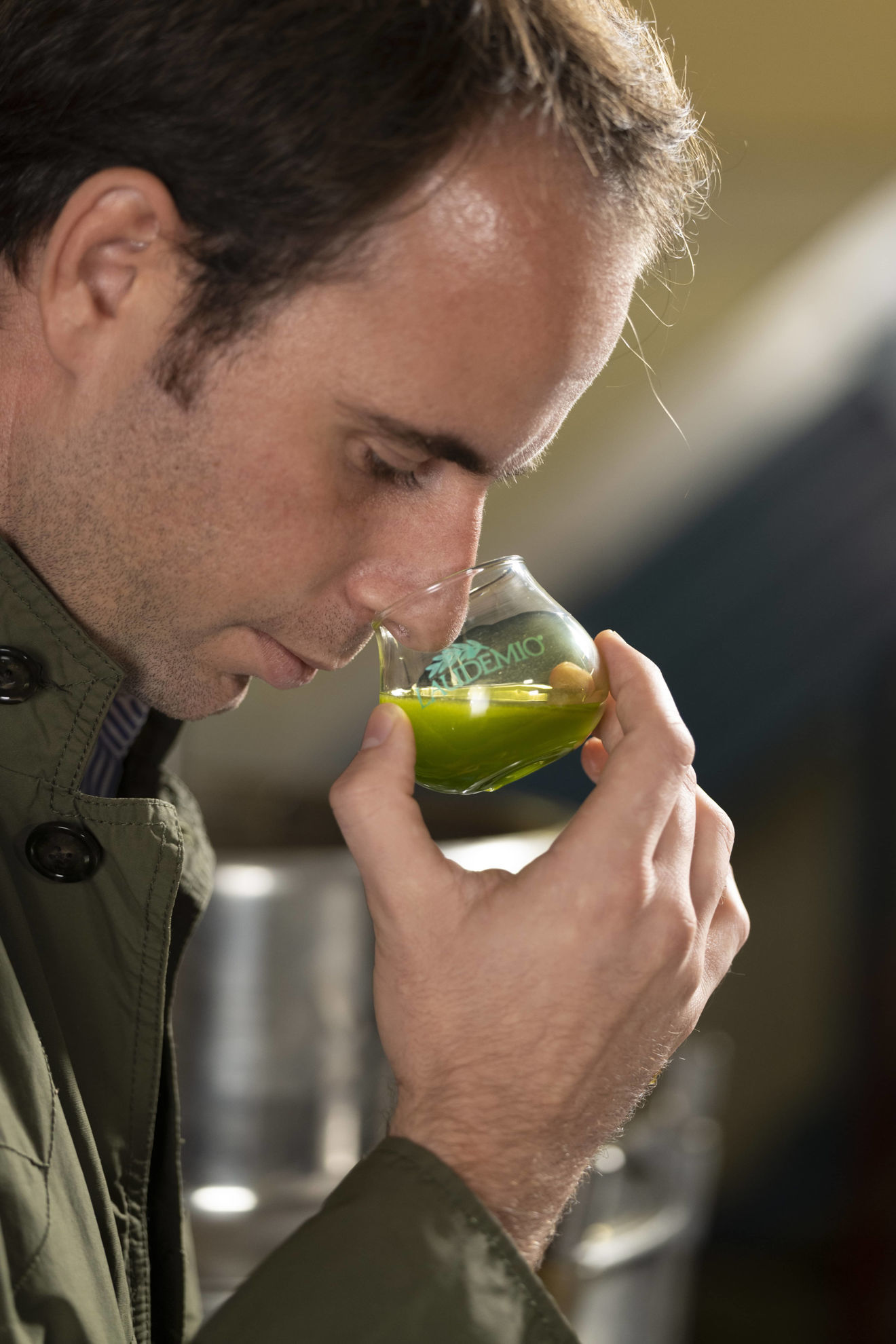 Olive oil tasting in Tuscany
It is essential to keep the above characteristics in mind when performing an olive oil taste test. Tasting olive oil is an art and a science, just like tasting wine, whiskey, or anything else. To hone your sensitivity to olive oil flavors, you must practice over time; nevertheless, to get the most benefit out of your olive oil tastings in our tour, you must do it correctly. Discover our detailed blog on the olive oil taste breakdown if you wish to learn how to do a proper taste test from our experts.
Now that you know how to taste olive oil and what taste to expect, experience it for yourself on our majestic estate. Italy features some of the highest-quality extra virgin olive oils on the market, and the vast majority of them come from the region of Tuscany. This region is a place of beauty and production, encompassing impressive yet simple flavors, centuries of knowledge, ancient traditions, and technological progress. Therefore, if you're visiting the magnificent countryside and historical places whilst diving into the culinary traditions of Tuscany, you must also visit our marvellous facility to try from the source a sample of our emerald green, high-quality extra virgin olive oil. 
The visit to our oil mill will be even more special with our guided tour and the wonderful taste experience that will allow you to delve into a world of Tuscan tradition. Therefore, don't hesitate any longer and indulge yourself in Tuscany's best olive oil-tasting expedition and discover our history, processes, and the particularities behind this prestigious liquid that graces everyone's table.
Experience wine along with olive oil tasting
Our vineyards alternate with olive groves to create the symbol of tradition and prestige that is widely recognized abroad. If you wish to learn more and get in touch with the wonderful world of olive oil and prestigious wines produced by the Frescobaldi family, don't hesitate to contact us through this form.
Frescobaldi offers the best red wines in Italy and even the world, most of which result in an intense ruby red color with complex aromas and enveloping and persistent flavors. An excellent example is the unmissable tasting of Brunello di Montalcino, a DOC wine enhanced by the terroir and the perfect production techniques. The Frescobaldi estates have absolutely unmissable bottles of red wines, which gorgeously pair with a wide variety of meals, especially when combined with typical dishes of the Tuscan culinary tradition. On the other hand, you also have the opportunity to discover the best white wines offered. You must try our Pomino white wine of elegant refinement, with pleasant floral and fruity aromas, perceptible persistence, and freshness on the palate.